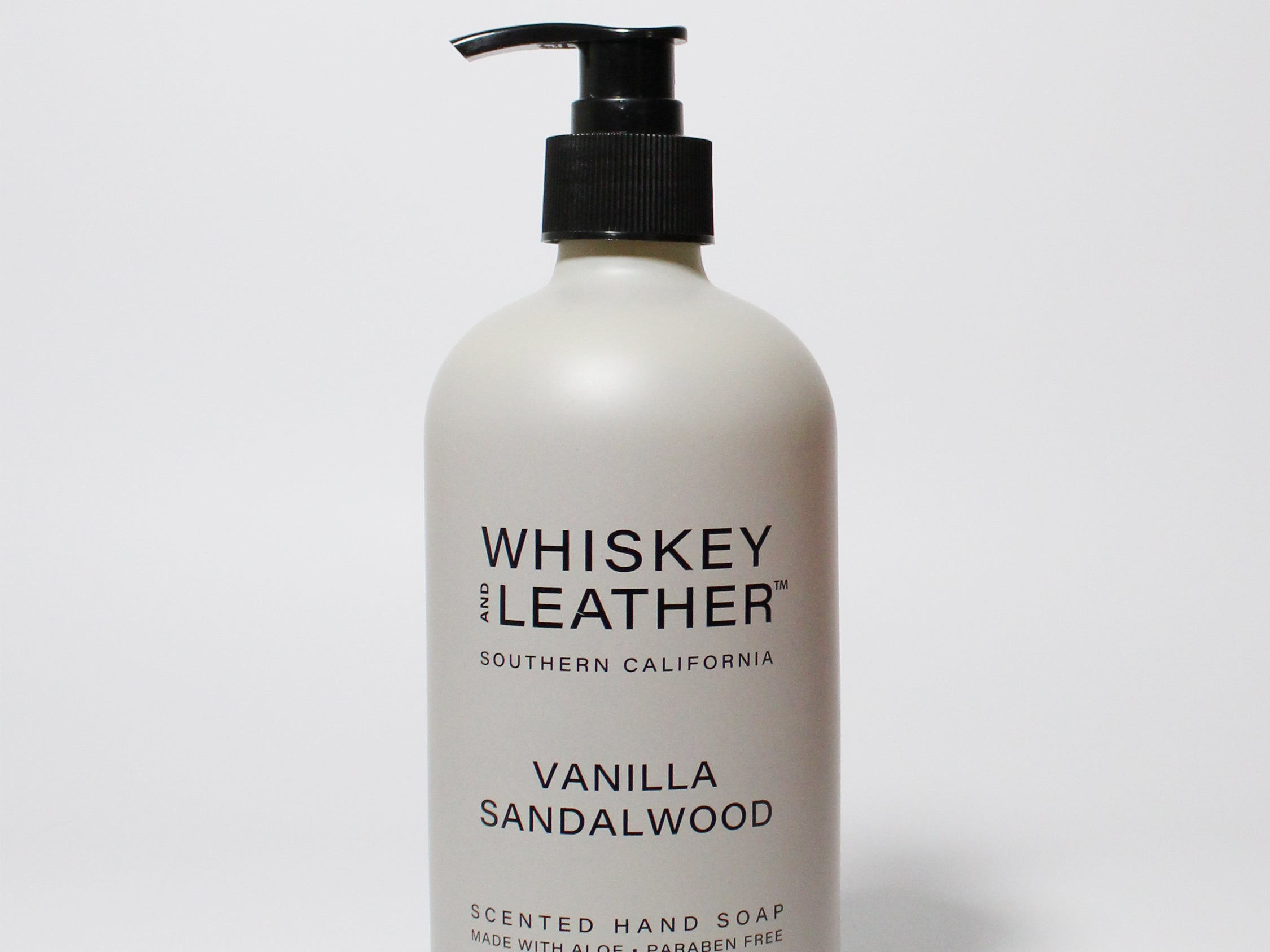 Vanilla Sandalwood Whiskey and Leather Liquid Hand Soap
Description

Invest in relaxation with Sand + Fog! Our collection, inspired by the sun-kissed shores of southern California, brings you premium scents, innovative designs, and affordable luxury. Crafted with care, each hand soap transforms a routine into a sensorial experience, leaving your hands soft, pampered, and subtly scented.

All of our hand soaps are made with aloe.
Information

Introducing our gender-neutral line, Whiskey and Leather— now in our bestseller
Vanilla Sandalwood. This unique scent combines the rugged and woody allure of sandalwood and the warm and creamy notes of vanilla, creating an ambiance that's both refined and comforting. Crafted for those who appreciate the finer things in life, this hand soap is designed to elevate your ambiance and transport you to a world of luxury and comfort.
Fragrance

This scent falls in the warm and woody fragrance family. Top Notes -verbena, spice and pepper; Middle Notes - aromatic, fresh lavender, and cedarwood; Base Notes - oakmoss, tree moss and cadewood. 

Made with aloe.
---
This scent goes perfectly with:
Our wicks are 100% cotton & burn clean.
Free shipping on orders over $75
Vanilla Sandalwood Whiskey and Leather Liquid Hand Soap
Fast Shipping
We Ship UPS Ground from California.  Depending on where you live in the US, it could take 2-9 days for your purchase to arrive.
30 Days Return Policy
Purchases made on our website may be returned by the customer for any reason within 30 days of shipment if the product is unused, and in new and original condition.
Get in touch
The team at Sand + Fog is available to help M-F from 9am-530pm PDT.  Please email via our contact page.  We'll get back to you as soon as we're able!